Chore Coat - Patchwork Jacquard
$215.00
Regular price
Unit price

/

per
Quantity selected exceeds current stock
 Description
The chore coat first hit the scene in the late 19th century in France. Meant for laborers, farmers and railroad workers alike, chore coats took a beating. Mostly made from twills and canvas they made sure to stand the test of time. 
The Deco Denim take on the chore coat has many of the original design hallmarks-a slightly roomier fit, larger waist pockets and two chest pockets (one on the inside and the on the outside). The chore coat is meant to be the perfect outerwear layering piece that can hold many, many things.

This style uses a patchwork jacquard that comes from an ethical factory in Thailand. It is shipped to LA, where it is sold by a well established Los Angeles jobber. 
Jacquards are neat because the pattern (in this case a patchwork design) is woven directly into the fabric as opposed to an embroidery that would go on top of the fabric. The weave of this fabric varies in color, the squares of the patchwork go from deep dark indigo to a light indigo, comprised of 100% cotton. It's a nice substantial 12oz weight, not too lightweight but definitely not heavy. It's slightly starchy and will take a tiny bit wearing to break in but it isn't going to fight you- the result after breaking in is a beautiful drape-y jacket that is perfect as a lighter layer with just a t-shirt or a great top layer over your favorite sweater or sweatshirt. 
Wear & Care
Cold water wash 
Do not put garments in the dryer - ever
In case of spills, spot clean with a damp cloth. Blot only - excessive rubbing will remove the indigo 
Adding product to your cart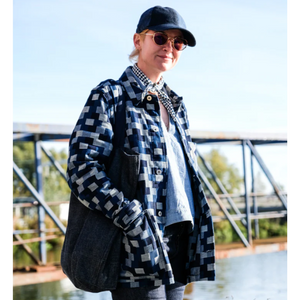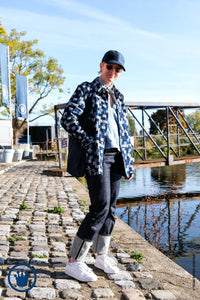 Recommended
You might want to take a closer look.